---
Alex Coode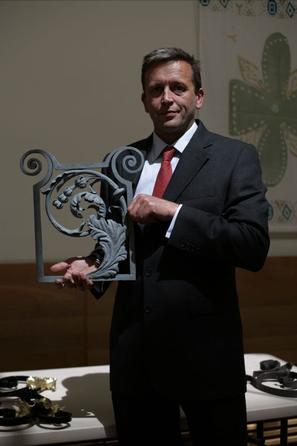 Alex has worked as a blacksmith for over 15 years, and has spent the last 8 years developing his practice as a specialist blacksmith-conservator.
Alex's first experiences with conservation came via projects undertaken whilst he was working as a general blacksmith, when he became aware that he needed wider skills than those of a general blacksmith in order to do justice to the significant pieces of blacksmithing heritage he was being asked to conserve or restore. When an opportunity arose to participate in the first National Heritage Ironwork Group Bursary in Conservation Blacksmithing, Alex immediately applied for and was accepted onto this course. Successful completion of this course meant Alex was equipped with a wide range of specialist skills, including condition assessment, decision making, surface preparation, mechanical and hot joining processes, disassembly and re-installation techniques.
Following completion of the bursary, Alex opened Heritage Blacksmith Partnership with a fellow student. The aim was to offer a dedicated ironwork conservation and restoration service. Heritage Blacksmith Partnership traded successfully for seven years, but due to outside circumstances the partnership was closed after this time.
Alex wished to continue with the same work however, so he opened a new business in the form of Coode Conservation Partnership – with the intention of continuing to offer equivalent services to those proved by Heritage Blacksmith Partnership.
Alex is a specialist in repousse (having completed the Worshipful Company of Blacksmiths' Gabriel Scholarship in repousse), and is an Associate of the Worshipful Company of Blacksmiths.
​
Alex gives presentations on various aspects of forged iron restoration and conservation, and is a regular guest lecturer at West Dean College.
---
Kate Jennings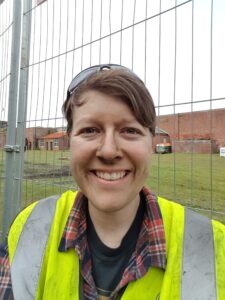 Kate's blacksmithing and conservation career started from the obvious point of training and qualifying as a corporate solicitor in London. Despite having spent significant time and effort to train and qualify as a solicitor, something was always missing. Various options were tested, but a day spent with a local blacksmith in his forge opened a door that couldn't be closed.

Kate subsequently spent a year at Hereford College studying a diploma in blacksmithing "just to see what happens". She has never looked back since. Whilst studying at Hereford College, Kate discovered a conservation course specifically in historic metalwork at West Dean College, and that opened up a whole new world – one in which practical metalworking skills could be combined with in-depth research and analysis. The perfect combination for someone with an academic bent but also a deep love of being in the workshop.

Two years at West Dean College resulted in Kate gaining an MA in "Evaluating the effectiveness of superheated water cleaning in reducing re-corrosion of coastally located ferrous metal objects". After college Kate went to work for Heritage Blacksmith Partnership, and then segued into setting up a new business (in the form of Coode Conservation) with one of her former bosses. Kate continues to develop the myriad skills involved in working as a blacksmith/conservator every day – forging, fabrication, welding, condition assessment, coating and corrosion removal, application of new barrier layers and many more.
---
Joss Baker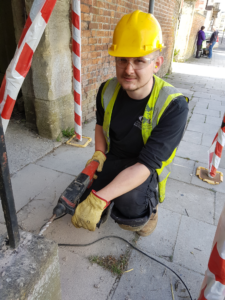 Joss arrived at our forge out of the blue. Whilst not originally a blacksmith, he has brought many transferable skills to the partnership. Design and computer modelling skills learnt whilst completing a BA in animation at Middlesex university provide valuable 3D awareness and relevant software skills. Whilst traveling with Giffords Circus for 3 tours he found himself acting as a secondary site technician, rigger and general handyman – all of which provided the opportunity to develop a wide range of highly applicable skills. These include prepping awkward loads for safe transport, fixing a wide variety of objects with a limited pool of resources and also acting as a site electrician.
Since joining us his skills have continued to grow – expanding into welding, traditional blacksmithing and general fabrication. He has proved himself a valuable and capable member of the team, and is keen to continue developing his practice.
I also built this website.
---
Forge Hounds